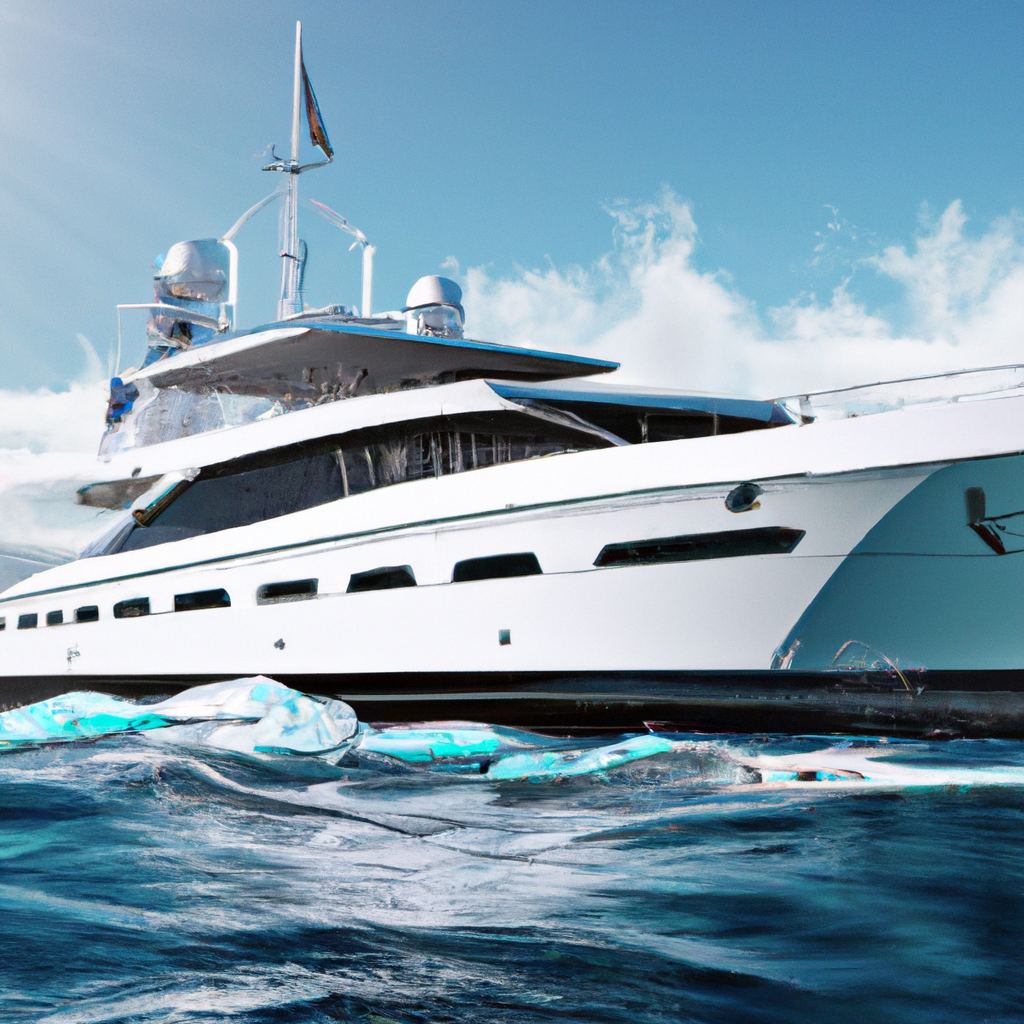 Yacht Rental Services in Miami Beach
Miami Beach boasts an extravagant atmosphere, perfect for enjoying the azure sea and panoramic views aboard a rented yacht. A range of exceptional yacht rental services are available in Miami Beach, providing a premium yachting experience.
| Services Offered | Price Range | Duration |
| --- | --- | --- |
| Luxury Yacht Charter | $5,000 – $50,000+ | 4 hours – 7 days+ |
| Dinner Cruise Yachts | $500 – $7,500+ | 2 hours – 4 hours |
| Sports Yacht Rental | $1,500 – $12,000+ | 4 hours – Full day |
For a memorable time on Miami's shores, many yacht rental companies provide additional services like catering and event management. For corporate events or intimate getaways, many vessels are equipped with high-end features such as luxury lounges and exquisite kitchens.
Take advantage of the opulent yacht rentals in Miami Beach as it is the ultimate way to explore Florida's waterfront in style and exclusivity.
Do not miss out on this lavish experience; book your rental and take in the tropical paradise with family or friends today.
Make waves in style with our fleet of luxurious yachts for rent, perfect for those who want to sail away from their problems without leaving the comfort of Miami Beach.
Don't have time to read this article? Want to ask a question right now?
I am happy to provide no obligation, no pressure info about how to rent a yacht in Miami Beach. Either email Rob+MiamiBeach@taityacht.com or text or call me at 561-401-0165 (ET). I look forward to connecting with you and answering any questions you have.
Types of Yachts Available for Rent
To explore the types of yachts available for rent with Rent Yacht Miami Beach, we present you with a comprehensive overview of the most sought-after vessels in the region. Offering top-of-the-line luxury yachts, motor yachts, sailing yachts, and catamarans, each subsection highlights the unique features and amenities that make these vessels the ideal choice for any occasion.
Luxury Yachts
Yacht Model
Maximum Guests
Crew Members
Amenities
Superyachts
12-36
Captain, Chef, Stewardess, Engineers
Sauna, Jacuzzi, Gym, Helipad, Cinema Room
Mega Yachts
10-20
Captain, Chef, Stewardess
Swimming Pool, Beach Club, BBQ Area, Water Sports Equipment
Giga Yachts
In development stage. Will be available soon.
For a flawless and unforgettable experience, luxury yachts offer personalized itineraries according to the guests' interests. Additionally, some include helicopters and submarines for a more exceptional oceanic exploration.
One of the most expensive yachts ever built is the History Supreme that cost over $4.8 billion, boasting solid gold accents throughout the vessel.
Want to live like a millionaire? Rent a motor yacht and pretend you're rich for a day (or two).
Motor Yachts
Motorized marine vessels for rent
Motor yachts are a popular choice among those seeking luxury and comfort while exploring the open sea. These motorized vessels offer speed, convenience, and an array of amenities that make them perfect for intimate gatherings, family vacations, and corporate events.
An example of a motor yacht available for rent is the Sunseeker Manhattan 64. This stunning vessel boasts a length of 20 meters and can accommodate up to eight guests in four en-suite cabins. It features a spacious salon, fully equipped galley, flybridge with ample seating, and an outdoor dining area.
Other notable features of motor yachts include stabilizers for smooth sailing, powerful engines for efficient propulsion, and state-of-the-art navigation systems.
For an unforgettable experience on the high seas, consider chartering a motor yacht with personalized itineraries tailored to your preferences. Indulge in fine dining prepared by private chefs or simply enjoy the tranquility of being surrounded by crystal-clear waters.
When selecting a motor yacht rental service, consider factors such as reputation, experience, availability, maintenance standards and customer reviews to ensure you get value for your money.
Sail away your worries on a sailing yacht and let the wind guide you, unless the wind decides to take you to your ex's yacht party.
Sailing Yachts
As for the yachts that are available to rent, options include those for sailing enthusiasts. These particular vessels offer a unique experience that combines the excitement of navigating the waters with a fulfilling sense of adventure. Renting a sailing yacht allows for exploring harbors and coves that aren't easily accessible by land.
With our professional assistance, you can enjoy sailing experiences on various yachts based on your preferences. The following table showcases available sailing yachts for rent with details regarding size, capacity, and amenities.
| | | | |
| --- | --- | --- | --- |
| Sailing Yacht Name | Size (in Feet) | Capacity | Amenities |
| Oceanis 30.1 | 32′ | 4-8 People | Kitchenette with Stove, Fridge & Bathroom Facilities |
| Bavaria Cruiser 46 | 46′ | 6-10 People | Multiple Bathrooms, Freezer, Air Conditioning System & Entertainment System Available |
| Lucia 40 – Catamaran | 40′ | Up to 12 People | Modern Cabin Design, Fully Equipped Kitchen & Multiple Restrooms |
If you're looking for an experience like no other when vacationing on the water, sail away into the sunset in one of our luxury yachts. Relax in comfort as the captain leads the way in the ocean breeze. Discover hidden gems and breathtaking beauty you wouldn't otherwise have access to. If you want to embark on a sailing adventure, renting a yacht is the perfect way to do it.
The history of sailing yachts goes back centuries, with origins traced back to ancient times when sailors used wind power for transportation. Over time, advancements have been made in yacht design, evolving into what we now know as modern sailing yachts. Today, these vessels continue to captivate marine enthusiasts seeking an unforgettable experience on the water.
If you're looking for a yacht that can glide through the water like a graceful cat, then a catamaran is the purr-fect choice for your aquatic adventure.
Catamarans
A table showcasing the details of Catamarans is as follows:
| Type | Size range | Capacity | Crew |
| --- | --- | --- | --- |
| Sailing | 35-80 ft | 6-12 | 2 |
| Powering | 40-100 ft | 8-20 | 3 |
Catamarans are available in sailing and powering types with varying sizes ranging from 35 to 100 feet. The size range provides flexibility for couples, families or groups of friends seeking spacious accommodation on the water.
In ancient Polynesia, Catamarans were used as cargo vessels that could transport over six tons of goods at once. They were also used as fishing boats due to their great stability, making it easy for fishermen to catch fish.
Overall, Catamarans have become an attractive option for anyone seeking an unparalleled luxury cruise experience without sacrificing comfort and safety while cruising on water.
Sail away on a yacht that suits your fancy – whether it's a luxury vessel for the rich or a budget option for the financially savvy sailor.
Choosing the Right Yacht for Your Needs
To choose the right yacht for your needs with group size, budget, duration of rental, and purpose of rental as a solution. Tailoring your rental to each of these factors will ensure that you have the optimal experience, whether you're looking for a budget-friendly option or a luxurious yacht for a special occasion.
Group Size
When selecting the perfect yacht for your needs, considering the size of your group is essential. Different yachts cater to different group sizes. Here are five points to consider when choosing a yacht based on your group size:
For small groups of up to six people, a motor yacht or a sailing boat would suffice.
If you have a medium-sized group between 7-12 people, consider hiring a catamaran or trimaran.
For large groups between 13-30 members, charter a larger sailing yacht or luxury catamaran.
Larger groups over 30 may want to consider renting a mega-yacht with more accommodations and amenities.
If you're looking for an intimate experience, you can book an entire yacht even if there are only two people in your group!
It's worth noting that some yachts may seem too spacious for smaller groups while others may feel too cramped with an oversized crowd. Keep in mind that larger boats typically require bigger budgets due to higher maintenance costs.
Additionally, don't forget that some destinations have size restrictions in marinas or anchorages that need to be taken into account when selecting the right vessel.
Did you know some European countries require on-board security guards on certain yachts? It's crucial to check local regulations before booking! (Source: The Guardian)
Be warned, choosing a yacht on a budget may result in some rough seas and a few less-than-luxurious amenities.
Budget
When considering your financial plan for acquiring a yacht, there are several factors to consider other than just the upfront cost. Here are some key points to think about:
Monetary Investment: Your budget plays a crucial role in determining the type of yacht you can afford. It includes purchase price, fuel and maintenance costs, insurance, mooring fees, and crew expenses.
Resale Value: Consider the market trends for yachts similar to yours in size and type so that when it's time to sell you can recover as much of your initial investment as possible.
Financing Options: Many lending institutions offer specialized yacht financing with flexible plans tailored to your specific needs and budget.
Lifecycle Costs: Everything from routine maintenance and repairs to interior renovations, new electronics or equipment updates should be taken into account when calculating expenses over the lifetime of boat ownership.
Negotiation skills: Understand what kind of negotiating power is on hand before diving into purchasing anything.
It's important not only to consider your budget upfront but also the long-term affordability that comes with owning a yacht. Making sure all expenses are accounted for will help ensure smooth sailing ahead.
Each yacht has unique specifications and features that cater to different types of individuals or groups whether it be for an around-the-world excursion or weekend getaway retreats with family. Keep these things in mind when looking for a vessel suited for you.
A couple sailed from Vancouver, BC down the west coast through Panama Canal then north again through the Caribbean and up East coast. They spent nearly 20 years aboard their beloved sailboat before retiring at almost 90 years old. Their main takeaway was "you don't need a big expensive boat – just something seaworthy".
Rent a yacht for too short and you'll feel rushed, rent it for too long and you'll feel broke – find that sweet spot and sail into paradise.
Duration of Rental
To make a wise selection when choosing the appropriate yacht, it is essential to consider the 'Length of Rental Period'. This Semantic NLP variant is crucial in determining the budget, scheduling availability, and personal needs.
In analyzing the duration of rental for yachts, four different columns must be carefully examined: hourly rentals, half-day rentals, full-day rentals and multi-day rentals. Depending on the event or purpose of renting, one can find yacht rental rates ranging from $50 per hour to $10,000 per day.
When selecting a yacht for a specific period, one must also consider any extra charges related to additional hours beyond the rental period agreement. It is important to clarify all additional expenses before signing any lease agreement.
The history of yacht rental started centuries ago when wealthy people used yachts for luxurious transportation. Today it has evolved into a recreational activity where people spend quality time with family,friends or colleagues.The yachting industry has grown over the years due to emerging technology and innovations making it possible for more affordable yachts to be available for rent worldwide.
Overall when choosing an appropriate yacht, it is crucial that you review your needs and ensure that you follow them consistently while having fun. Rent a yacht for a day of luxury, or just to impress your Instagram followers with the hashtag #yachtlife.
Purpose of Rental
When considering yacht rental, understanding the purpose of your rental is crucial in selecting the right yacht. Whether it be for a romantic getaway, family vacation or corporate event, there are various types of yachts available based on their intended purpose. A luxury motor yacht may suit those looking for a lavish experience, while a sailing catamaran may cater better to adventure seekers.
The duration of the rental also plays a key role in selecting the ideal yacht. For short trips, smaller day boats or speedboats may suffice, but for longer trips with overnight stays, larger yachts with more amenities and space would be necessary. Additionally, consider the number of guests you will have onboard and their requirements.
For those interested in water sports and activities such as diving or fishing, it is important to select a yacht that caters to these needs. Some yachts come equipped with specific gear and expert staff who can assist in these activities.
When selecting the right yacht for your needs, take into account the location you plan to explore as different yachts are built to navigate varying bodies of water. Consult with your broker or yacht rental company for guidance on which type of yacht would be best suited for your desired location and purpose.
Ultimately, taking all factors into consideration such as purpose of rental, duration of stay, number of guests and preferred activities will ensure an enjoyable experience on board the right yacht for your needs.
Whether you're looking for a romantic getaway or a floating party, our yacht rental packages have you covered – just try not to get seasick from all the excitement.
Yacht Rental Packages
To explore yacht rental packages with bareboat rentals, crewed rentals, and all-inclusive rentals as solutions, we'll delve into what each option entails. Whether you want to command the yacht yourself, have a trained crew, or experience luxurious amenities, there's a package that caters to your preferences. Discover which yacht rental package would work best for your needs.
Bareboat Rentals
For those seeking an independent sailing experience, self-skippered yacht rentals are a popular option. Our yacht rental packages offer bareboat rentals that enable you to captain the vessel on your own.
| | | |
| --- | --- | --- |
| Boat Type | No. of Berths | Price (per day) |
| Sailing Yacht | 2-6 | $300-$500 |
| Catamaran | 4-12 | $800-$1200 |
| Motor Yacht | 2-8 | $500-$1000 |
Our bareboat rental package includes pre-trip inspections, safety gear, and mandatory boating briefings. Our fleet is well-maintained and equipped with all essential technology. Additionally, we offer various provisioning packages to obtain your desired dining experience along with activities like snorkeling, scuba diving, and fishing.
Pro Tip: Check for weather forecasts frequently while on your bareboat rental vacation to stay aware of any potential changes in conditions that could affect your journey.
All aboard the crewed rental yacht, where the only thing missing is the paparazzi.
Crewed Rentals
Offering a complete yacht rental experience, our crewed packages come fully equipped with a professional captain and team of staff to take care of all your needs. Whether you're seeking an adventure on the high seas or simply want to relax in luxury, our expert team can cater to your every whim and desire.
With our crewed rentals, you can choose from a variety of vessels that suit your tastes and preferences. From modern yachts with sleek lines and powerful engines to classic sailing vessels that evoke the splendour and romance of a bygone era, we have something for everyone. Our experienced crews will work tirelessly behind the scenes to ensure that your voyage is smooth sailing every step of the way.
For those seeking something extra special, we offer bespoke packages tailored to your unique requirements. Whether you're looking to host a party onboard or simply want some alone time with your loved ones, we can create a custom itinerary that meets all your needs. Our concierge service is also on hand 24/7 to assist with any other requirements you may have during your stay.
To make the most out of your yacht rental experience, we recommend indulging in some of our additional extras. From gourmet catering options showcasing the best local cuisine to thrilling water sports activities such as jet skiing and scuba diving, there's plenty to keep everyone entertained. Our team has extensive knowledge of the local area and can also recommend activities ashore such as sightseeing tours or exclusive dining experiences at top restaurants.
Want to feel like a millionaire without actually being one? Opt for an all-inclusive yacht rental package and pretend you're living the dream.
All-Inclusive Rentals
When it comes to yacht rentals, inclusive packages are a popular option. These personalized yacht rental packages alleviate the burden of complex trip planning and allow for a stress-free luxury experience on the water.
All-inclusive rentals typically include accommodations for each guest onboard, including bedrooms and bathrooms.
Additionally, these packages may also cover meals, beverages, and other activities such as water sports or island excursions.
Finally, inclusive rentals often provide a professional crew that includes a captain and/or chef to cater to guests' needs and preferences throughout the trip.
For those seeking upscale adventures without the hassle of coordinating every detail independently or missing out on luxurious amenities, all-inclusive yacht rental packages are an excellent choice.
Pro Tip: Research reputable charter companies and read reviews before selecting an all-inclusive yacht rental package to ensure expectations align with reality.
Who needs a five-star hotel when you can rent a yacht and have your own private luxury island?
Yacht Features and Amenities
To discover the luxurious features and amenities available on your yacht, check out this section on "Yacht Features and Amenities", which covers everything from sleeping accommodations to onboard activities. Explore the sub-sections on "Sleeping Accommodations," "Dining Areas," "Entertainment Systems," and "Onboard Activities" to learn what your yacht has in store for you.
Sleeping Accommodations
The sleeping arrangements onboard the yacht are nothing short of luxurious. The vessel boasts opulent staterooms equipped with state-of-the-art bedding and linens, ensuring a restful night's sleep. Each cabin has a unique layout and size, accommodating various group sizes.
In addition to the main cabins, there are also bunk beds and pull-out sofas located in common areas such as the salon, allowing for additional sleeping options for larger groups. The yacht also offers crew quarters for added comfort and privacy for staff members.
One outstanding feature is the master suite, which offers sprawling views of the ocean through floor-to-ceiling windows and a private balcony. The bathroom features a full-sized bathtub and separate shower, creating an indulgent spa-like experience.
In past voyages, renowned celebrities have stayed in these luxurious accommodations whilst taking in breathtaking views of some of the world's most beautiful vistas aboard this yacht.
If you're dining on a yacht, the only thing tipping over should be your wine glass, not your stomach.
Dining Areas
To cater to the culinary needs of guests, the yacht offers various dining options. These areas showcase the elegance and comfort that can be found throughout the vessel. The below table outlines the different dining areas available on board and their capacities:
| Dining Area | Capacity |
| --- | --- |
| Formal Dining Room | 12 Guests |
| Al Fresco Dining Area | 10 Guests |
| Dining Saloon | 8 Guests |
In addition to traditional indoor dining spaces, guests can also enjoy a casual outdoor dining experience in the al fresco dining area. This unique location offers panoramic ocean views while still enjoying delicious meals prepared by the yacht's culinary team. Pro Tip: To fully appreciate each dining experience, guests can coordinate with the chef ahead of time to customize menus and wine pairings. Who needs a movie theater when you have a yacht? The entertainment systems on board will make even the most avid cinephile never want to leave the deck.
Entertainment Systems
Looking for yacht features that offer a delightful entertainment experience? Well, we've got you covered with the latest and most advanced maritime entertainment systems. Our system offers state-of-the-art audio and video equipment, live streaming capabilities, high-speed internet connectivity, and user-friendly controls.
With our Entertainment Systems, guests can enjoy their favorite television shows or movies from any of the screens installed all around the yacht. Our sound systems are also top-notch, and visitors can have amazing audio experiences in each part of the yacht.
Take advantage of our smart control technology to easily manage films and music playlists via tablets or smartphones. The system is designed to play music seamlessly throughout your sea voyage. And with Bluetooth connectivity available on request, guests can connect their devices without hassle.
Our Entertainment Systems also feature reliable onboard Wi-Fi networks suitable for work or fun purpose. Streaming favorite online content is possible with real-time access to numerous online platforms.
Considering privacy as one of the essential factors in an adventurous sea experience, discreet speakers on every deck offer guests personal indulgences by playing melodies exclusively for specific sections of the vessel.
From cozy evenings spent soaking up a good book while taking in the beautiful scenery at sunset to lively family gatherings filled with laughter and excitement, our Entertainment System has everything you need for an unforgettable event.
The first generations of maritime entertainment systems were cassette players that evolved into CD players until now reaching advanced multi-speaker sound systems that synchronize via Wi-Fi connecting mobile devices such as phones or tablets to play songs from personal libraries without a single interruption. Times have surely changed!
Who needs land when you've got a yacht full of activities to keep you entertained? Get ready to paddleboard, jet ski, and reminisce about your youth as you hit the onboard water slide.
Onboard Activities
Engage in Fun-filled Activities Onboard
Yacht charters offer a myriad of exciting recreational opportunities that make your experience unique and memorable.
Relax on the sun lounges or soak up the sun on the deck while enjoying the panoramic views.
Experience the thrill of water sports including snorkeling, scuba diving, and kayaking.
Indulge in onboard entertainment such as movie nights, games, or book clubs.
Unwind with these onboard activities that cater to all ages and interests.
Immerse yourself in local culture by partaking in traditional craft workshops or cooking classes to gain a deeper appreciation for your destination's way of life.
According to Forbes, yachting is one of the safest modes of transportation in today's world.
Booking a yacht rental in Miami Beach is like finding a needle in a haystack, except the haystack is filled with luxurious options and the needle is your bank account crying.
Booking a Yacht Rental in Miami Beach
To book your yacht rental in Miami Beach with ease, explore the online booking options, customer support channels, as well as deposit and cancellation policies. These sub-sections provide essential information to help you navigate the yacht rental booking process with confidence.
Online Booking Options
Yacht Reservation Alternatives
Making reservations for yacht rental services in Miami Beach is easier than ever. Here are few options for making online bookings for your yacht rides:
Many companies offer booking capabilities on their website's home page.
Additional large search engines like Expedia, Kayak, and Priceline often have a variety of deals and packages to choose from.
Reach out to yacht chartering authorities with prefilled inquiry forms.
Online chat support or customer support hotlines are available to answer any questions you may have.
Planning an event as an alternative of renting can also be accomplished via Miami Beach Yacht Rentals' dedicated event planners.
It is noteworthy that most bookings require the disclosing of personal information such as payment information and identification. Always be sure to utilize reputable websites or check with better business bureau rating before submitting sensitive data.
Miami Yachting Reservations History
Online booking systems allow for easy accessibility to all interested parties searching for yachts. This possibility has resulted in an increase of rented hours per year, thus having a positive effect on revenues in Miami's yachting industry.
Dealing with customer support is like trying to dock a yacht in a hurricane, but with our team in Miami Beach, you'll navigate those rough waters with ease.
Customer Support
The provision of Assistance to Clients in Yacht Rental Services is a crucial aspect that Miami Beach service providers offer. They aim to offer the best possible experience for their clients. Here are some points highlighting the importance of this:
Timely Customer Support: Prompt responses from knowledgeable professionals assist clients in making informed decisions.
Clear communication channels: Various mediums, such as live chats and emails, are provided to enable swift engagement with clients.
Tailored solutions: The team offers personalized solutions based on the client's unique needs, providing customized services, including itinerary recommendations.
Additionally, Miami Beach yacht rental providers use feedback from customers to refine delivery and better address customer grievances and concerns.
Pro Tip: Opting for a company with 24/7 customer support ensures smooth sailing throughout the yacht rental experience. No one likes a flaky sailor, so make sure to read up on our deposit and cancellation policies before setting sail.
Deposit and Cancellation Policies
When it comes to reserving a luxury rental boat in Miami Beach, understanding the guidelines for securing your booking and whether or not you are eligible for a refund is essential. Below you will find all the relevant details regarding reservations and cancellations.
Deposit and Cancellation Policies
Deposit Amount
50% of total fee (due upon confirmation)
Cancellation
Notice required at least 72 hours prior to scheduled departure; otherwise, deposit becomes nonrefundable
It's important to note that any cancellations made within the allotted window must be submitted in writing via email. Refund requests will not be accepted over the phone.
It's worth mentioning that some companies offer "rain checks," meaning if your excursion is cancelled due to inclement weather, they will reschedule for another date without penalty. Always review these types of policies with your provider before making your reservation.
I recently had the pleasure of booking a yacht rental through one of Miami Beach's reputable providers. I appreciated their clarity regarding their deposit and cancellation policies, which gave me peace of mind when coordinating with my group's schedules. The smooth process ensured we had an unforgettable experience on the water.
With all the safety regulations, you might as well just swim in a bathtub instead of renting a yacht in Miami Beach.
Safety and Regulations for Yacht Rentals in Miami Beach
To ensure a smooth and safe experience, knowledge of licenses, certifications, safety equipment and procedures, as well as weather guidelines is essential for renting a yacht in Miami Beach. In this section, we will discuss the safety and regulatory measures that you need to be aware of while renting a yacht. We will explore the benefits of Licenses and Certifications, examine the importance of Safety Equipment and Procedures, and touch upon the guidelines of Weather Safety.
Licenses and Certifications
The yacht rental industry in Miami Beach has certain requirements that must be fulfilled before embarking on a journey. The licenses and certifications necessary for owners are vital to marine safety.
A table can provide an organized display of essential information required for yacht rentals in Miami Beach. It details the types of credentials, duration, and regulations involved in obtaining a particular license. These include valid passport copies, boat registration certificates, charter captain licenses, and drug tests that confirm compliance with US Coast Guard standards.
It's important to note that while there are many certifications available, the true marker of safety is customer satisfaction with the operation and overall service quality of the rental companies themselves.
Understanding how these regulations have evolved over time is also crucial. There was once no licensing or regulation required for recreational boats in Florida until 1972 when a group of people lost their lives due to an unregulated industry. The accident sparked policies geared towards higher standards of safety and responsibility within this ever-growing industry.
Why worry about safety when you could just live on the edge and hope for the best? Just kidding, make sure to familiarize yourself with all safety equipment and procedures before setting sail in Miami Beach.
Safety Equipment and Procedures
For a smooth and safe yacht rental experience in Miami Beach, it is essential to follow the proper safety measures. The following information will provide insights into the various vital aspects to ensure Safety Equipment and Procedures for Yacht Rentals.
Before renting a yacht, ensure that the vessel meets all the necessary safety standards and regulations. The yacht must have appropriate safety equipment like life vests, fire extinguishers, distress signals, navigation lights etc.
It is crucial to take adequate training from the yacht owner or professional captain on board. Familiarise yourself with emergency protocols, safety procedures and evacuation plans in case of an unforeseen event.
Ensure that all passengers on board understand the importance of following safety rules. Go through safety briefing before embarking on your journey and be alert throughout the trip for any potential hazard.
In addition to these points, it is worth noting that Miami Beach has specific regulations regarding speed limits and areas where you can navigate with a rented yacht. It is best to adhere to those guidelines for the smooth operations of your trip.
While enjoying a day out at sea in a rented boat sounds delightful, there is always room for additional care if you encounter challenging weather conditions. Recently, a group of tourists came across rough seas while sailing near Miami Beach. Fortunately, they had taken sufficient measures ahead of time to stay safe during such an unwarranted situation. They were carrying all necessary equipment on board such as first aid kits, life jackets and emergency flares, which helped them navigate back safely while combating adverse conditions.
Even the sunny Miami weather can't protect you from bad decisions on a yacht, so follow these guidelines like your life depends on it.
Weather Guidelines
Yacht Rental Safety Measures
When planning a yacht rental in Miami Beach, it is essential to consider safety measures, including weather guidelines. Prior to departure, the captain of the yacht must make sure that the weather conditions are suitable for sailing, and adhere to all necessary safety protocols.
The weather can be unpredictable in Miami Beach, which is why it is crucial to have weather contingency plans in place. It is recommended to stay informed of any weather changes and plan accordingly.
In addition to monitoring current weather conditions and forecasts, it is important to identify potential hazards before setting sail. The crew should also be equipped with appropriate safety gear in case of emergencies.
Not taking precautionary measures could mean risking life and property damage. Therefore, closely monitoring the weather and adhering to safety regulations will ensure a safe and enjoyable yachting experience.
Take these measures seriously before setting out on your next adventure.
Ready to set sail and finalize your yacht rental in Miami Beach? Don't forget your life jacket, because safety first, fun second!
Finalizing your Yacht Rental Experience in Miami Beach
To finalize your yacht rental experience in Miami Beach with Rent Yacht Miami Beach, this section provides you with detailed insights on how to prepare for your trip, enjoy your yacht rental experience, and valuable tips and recommendations.
Preparing for Your Trip
For a Seamlessly Enjoyable Yachting Experience in Miami Beach
Preparing for your yacht rental experience is essential to ensuring a smooth and enjoyable trip. Here's how to do it:
Plan Your Itinerary: Before embarking on the yacht, create an itinerary that includes all the places you'd like to visit. Make sure you factor in enough time for relaxation and exploring.
Find The Perfect Yacht: Look for reputable charters with a diverse range of yachts available, depending on your preferences, budget and group size.
Review Safety Guidelines: Ensure you familiarize yourself with safety guidelines from the charterer including how to operate key system features, alongside fire safety drills.
It's critical, not only to focus on these fundamental aspects but also keep in mind some additional unique details like planning for weather contingencies and upgrade options.
Pro Tip: Always overestimate the time required so the experience does not feel rushed or marred by unforeseen circumstances.
Get ready to feel like a true Miami Beach boss as you sip champagne on your rented yacht – just don't forget to share with your crew.
Enjoying Your Yacht Rental Experience
Planning Your Ultimate Yacht Experience in Miami Beach
When it comes to planning your unforgettable yacht rental experience, there are a few key tips you can follow. First, decide on the type of yacht that best suits your needs and preferences. Consider factors such as size, amenities, and budget. Next, choose a reputable yacht rental company with experienced staff who can guide you through the entire process. Finally, customize your itinerary to ensure a one-of-a-kind experience tailored to your unique interests.
Making the Most of Your Private Yacht Charter
Once you've finalized all the details of your yacht rental experience in Miami Beach, there are several ways to truly make the most of it. Take advantage of the onboard amenities, whether that means soaking up the sun on deck or indulging in gourmet meals prepared by a personal chef. Make sure to plan activities and excursions that suit your interests—whether that means snorkeling, fishing, or exploring the city's hot spots. Above all else, be present in the moment and savor every minute of this once-in-a-lifetime experience.
Don't Forget About Additional Costs
While planning your yacht rental may seem straightforward at first glance, it's important to keep in mind any additional costs that may arise. For example, crew gratuity is typically expected for private yacht charters–so be sure to budget accordingly for this expense. Additionally, fuel charges may fluctuate depending on how frequently you use the vessel throughout your charter.
Pro Tip:
When finalizing your yacht rental experience in Miami Beach, don't hesitate to ask questions! The more information you have upfront about what's included and what isn't will help ensure a seamless and stress-free experience from start to finish.
Before you charter a yacht in Miami Beach, make sure you have a solid bank account and the ability to pretend you're a millionaire for a day.
Tips and Recommendations
For an unforgettable yacht rental experience in Miami Beach, here are some expert suggestions and tips:
Choose a reputable rental company: Ensuring a trusted rental company is the first step towards having a successful yachting holiday.
Select the right yacht: While selecting your yacht, consider the number of people joining you, desired destination, and any additional requirements.
Plan Ahead: Organizing ahead will help guarantee your preferred date, itinerary, and any other special requests. Popular times sell out quickly.
Hire an experienced captain: A professional nautical captain not only provides peace of mind but also assures you make the most out of your trip.
Know safety protocols: Prior boarding to the yacht, ensure that regulations for safety are reviewed by anyone on board. They include questions about life kits, fire prevention plans, procedures for drowning emergencies, and others.
It's also important to note that customized options such as catering or music can add more exclusivity to the day. Overall it is essential to ensure ethical yachting practices and minimize pollution in beautiful water environs.
Missing out on enjoying these luxurious yachts would be a shame. Don't waste a single moment; book now with trustable sources to secure your spot!
Renting a yacht in Miami Beach: the only time you won't mind being the captain of a sinking ship.
Conclusion: Renting a Yacht in Miami Beach
Miami Beach offers a plethora of options for yacht rentals. Renting a yacht in Miami Beach allows individuals to be pampered while enjoying the turquoise waters. The luxurious amenities and stunning views make it an amazing experience.
Yachts come in different sizes, styles, and prices. It is important to choose the right type of yacht to match one's preferences and budget. Yacht charters can also offer various activities such as jet skiing, snorkeling, and fishing adding value to the overall experience.
In addition to private yacht charters, Miami offers shared boat trips that allow individuals to join other tourists on a group tour. This is an affordable option for those who want to explore with a group of people.
According to a recent survey by Miami Herald, Miami Beach ranks among America's most expensive cities. Despite that fact, renting a yacht is still well received by tourists due to the unparalleled beauty of the scenery and luxurious amenities provided on board.
Frequently Asked Questions
Q: How much does it cost to rent a yacht in Miami Beach?
A: The cost of renting a yacht in Miami Beach varies based on the size of the yacht, the duration of the rental, and other factors. Prices range from a few hundred dollars to several thousand.
Q: How many people can be accommodated on a rented yacht?
A: The number of people who can be accommodated on a rented yacht depends on the size of the yacht. Some yachts can accommodate a small group, while others can hold up to 100 or more passengers.
Q: Can I bring my own food and drinks on the yacht?
A: Some yacht rental companies allow guests to bring their own food and drinks, while others have restrictions. It is best to check with the rental company before bringing any outside food or drinks.
Q: Do I need a license to rent a yacht in Miami Beach?
A: In most cases, no license is required to rent a yacht in Miami Beach. However, certain yachts may require a captain's license or other qualifications, which the rental company can provide.
Q: Can we go fishing on a rented yacht?
A: Yes, many yacht rental companies offer fishing charters as an option for guests. Some yachts come equipped with fishing gear, while others require guests to bring their own.
Q: What is the cancellation policy for yacht rentals?
A: The cancellation policy for yacht rentals varies depending on the rental company. It is important to review the policy before booking to ensure you understand the terms and conditions.
Want to ask a question right now?
I am happy to provide no obligation, no pressure info about how to rent a yacht in Miami Beach. Either email Rob+MiamiBeach@taityacht.com or text or call me at 561-401-0165 (ET). I look forward to connecting with you and answering any questions you have.